Black Excellence
Black Excellence.
Black Girl Magic.
Say it loud … I'm Black and I'm Proud!
I celebrate Black history every day. We are doing amazing things every day.
What does Black history look like?
Fighting injustice

Celebrating our wins

Honoring our legends

Focusing on the present

Planning for the future

Demanding justice

Melanin Love

Black Love

Fists raised high

NPHC

HBCU

Knowing why 1619, 1863, 1865, 1968, and 2008 are significant years in the history of America

And all the years in between. 

Oprah. Malcolm. Cicely. Martin. Ossie. Ruby. Denzel. Viola. Eartha. Sidney (They call him Mister Tibbs!) Ebony. Jet. Essence. 

Pain. Persistence. Pride. 
Have you been to the National Museum for African American History & Culture? I visited in 2017 and could have spent the ENTIRE day there.
#1: I love museums. 
#2: I love my Blackness.
Needless to say, I was home.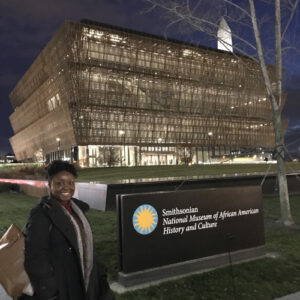 The journals from the Middle Passage. Truths being self-evident but not equal. Emmett Till's casket. The inauguration of Barack Obama. Harriet. Oprah. 
Add this to your list to visit at least twice! It was definitely an experience and one that I can't wait to consume again. In the meantime, visit their website and explore this monumental testament to the significant contributions of African Americans in these United States.
Let's Do This: What does Black history mean to you?